Backstreet Boys hint at 'movie-esque' video
Friday, July 24 2009, 15:31 BST
By Lara Martin, US Correspondent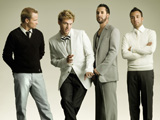 Backstreet Boys star AJ McLean has hinted that the video for the group's new single will be "movie-esque".
The band will release the RedOne produced 'Straight Through My Heart' later this year, marking the first single of their new album This Is Us.
Speaking to DS, the singer said: "We have three treatments to choose from and Nick actually wrote one of them which is really cool.
"Hopefully we'll be shooting the video next week or the beginning of the following week. I can't really say anything, but I can tell you it's going to be kind of movie-esque but very edgy.
"It's a kind of narrative video. We'll be doing our performance and we'll be dancing, but the song will be a kind of narrative for the actors in the video."
The Backstreet Boys release 'Straight Through My Heart' on September 29.
這......就是傳說中NICK努力認真想要驚艷大家的那個電影嗎???!!!???!!!
真是期待啊啊啊啊啊啊啊啊~~~~XD